Empowering Changemakers 2023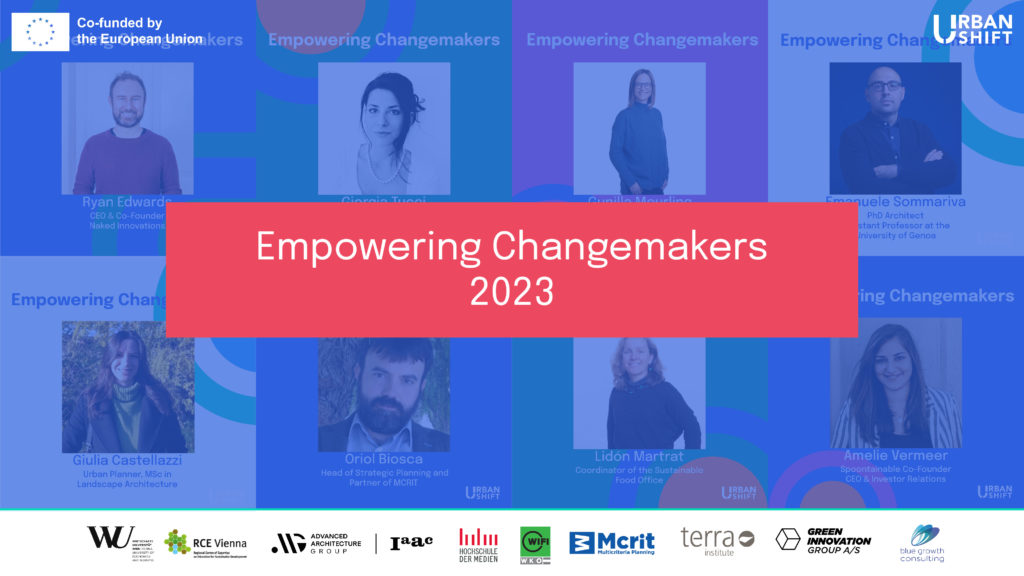 Contribution by Marite Guevara & Marta Carbones (MCRIT)
The Empowering Changemakers event held on May 3rd, 2023, aimed to facilitate knowledge exchange and collaboration among experts from various sectors, focusing on the topics of Urban Heat Islands and Food Waste. The event featured parallel sessions where experts from the public and private sectors shared their insights and perspectives on these issues. 
During these sessions, the experts highlighted the specific demands they have from both the public and private sectors. They emphasized the importance of innovative services that can contribute to addressing the challenges of Food Waste and Urban Heat Islands. Moreover, they discussed interesting trends in the food sector, such as the shift towards a circular economy model, and trends in city planning and design, particularly the movement towards cooling design and nature-based solutions. 
In these parallel sessions, experts showcased innovative approaches and best practices for combating Urban Heat Islands and food waste. Examples included the creation of new, high-quality products from surplus food and the utilization of hyper-accurate AI technology to forecast heat waves and prevent food loss.
Given the presence of startup representatives in both sessions, insights were shared on various aspects. These included the significance of building a strong team, securing investment, and scaling technologies to enter the market. Additionally, the experts emphasized the importance of adopting a holistic approach when addressing challenges like food waste and Urban Heat Islands. This involved fostering connections not only with consumers but also with the local community, government entities at different levels, experts and researchers, and other businesses.
The event also facilitated private feedback sessions between Urban Experts, trainers, and learners. This unique opportunity allowed the Urban Shift startups to receive in-depth sector knowledge and constructive feedback from industry experts, helping them refine their startup solutions.
The private sessions were specifically organized to enable the Urban Shift entrepreneurs to pitch their start-up ideas, received expert feedback, and to address start-up questions to the experts. These sessions served as a reality check for startups, assessing their alignment with stakeholder expectations and evaluating the innovation and feasibility of their proposed solutions. By receiving this valuable feedback, startups could refine their ideas and strategies to better align with market demands and ensure long-term viability.
The event was conducted online through the Zoom platform and consisted of two parallel sessions: one focused on Urban Heat Islands and the other on Food Waste. The first part of the event (15:00-16:15 CET) was open to the public, while the second part (16:30-17:30 CET) was exclusively reserved for the UrbanbShift learners, mentors, coaches, and invited experts. 
Participating Urban Experts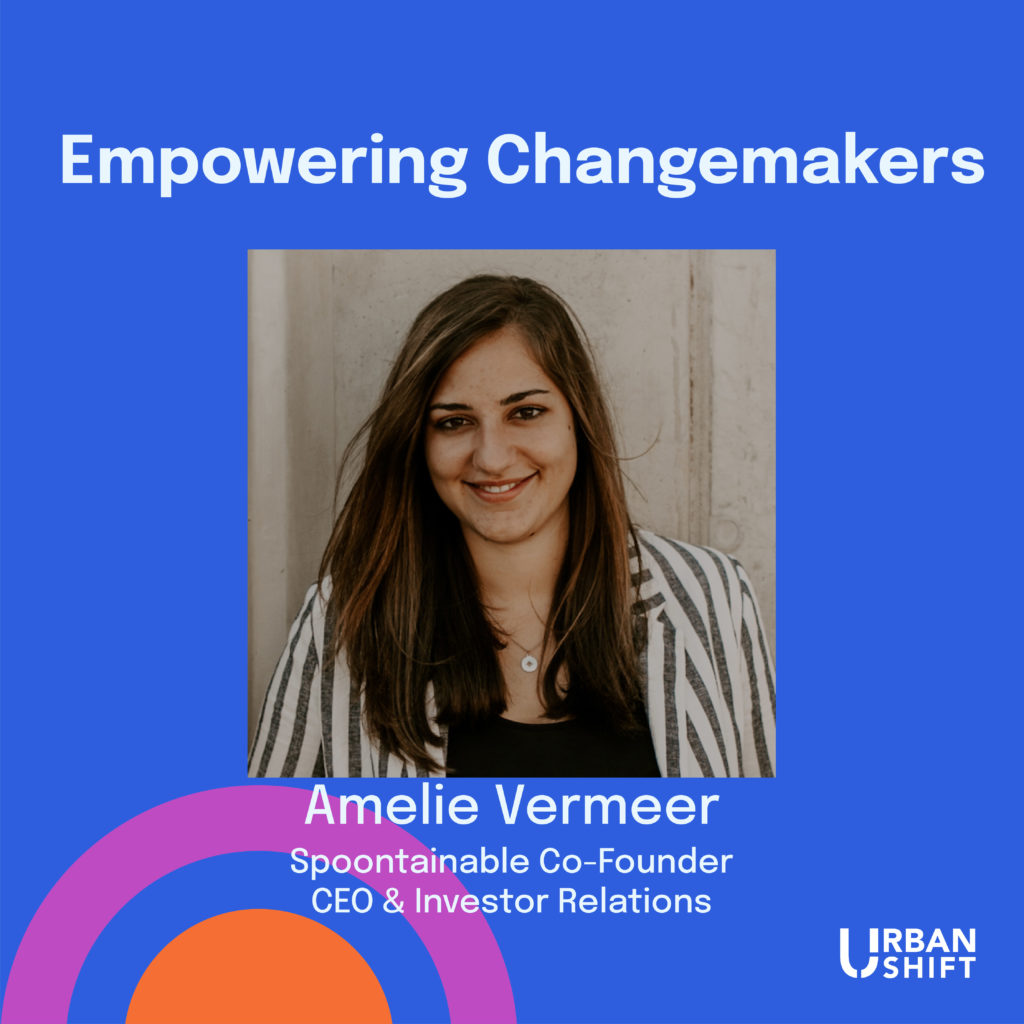 Experts addressing the Food waste challenge:
Representing the public sector: 
Lidón Martrat, Coordinator of the Joint Office of the Regional Government of Catalonia & City Council of Barcelona for Sustainable Food  
Gunilla Meurling, Agronomist from the Barcelona Strategic Metropolitan Plan. Currently participating in CULTIVATE, an EU-funded project to increase public awareness and knowledge of Food Sharing initiatives (FSIs), to understand what drives or hampers their implementation and development.  
Representing the research academic sector:
Giorgia Tucci, PhD Architect, Professor in Urban Design and Planning at dAD – UniGe Founder of the website platform agrocities.com. 
Emanuele Sommariva,  PhD Architect, Professor of Urban Design and Planning at the University of Genoa UNIGE-DAD Scientific Manager of Research Unit in EU project: Creative Food Cycles (2018–20) https://iaac.net/food-interactions-catalogue/    
Representing the private sector: 
Amelie Vermeer, CEO of Spoontainable, start-up that produces and sells edible cutlery – with a focus on spoons – that is 100% made from sustainable raw materials. One of the 10 most innovative start-ups in Germany.  
Ryan Edwards, CEO of Naked Innovations, designing, delivering and mentoring startup accelerators and incubators in the agrifood industry, with over 500 startups graduating through them. 
Experts addressing the Urban Heat Island challenge: 
Representing the public sector:
Isabella Longo, Project Director of BIT Habitat (Barcelona City Council). Project director with an engineering and urban planning background and an experience of more than 15 years in several fields: urban planning, design of innovative data-driven urban policies, economic development strategies, landscape and heritage dynamization, social and cultural innovation, content curation, events coordination and management. 
Representing the research academic sector:
Giulia Castellazzi, Urban Planner, MSc in Landscape Architecture. Landscape Architect and GIS analyst at LAND Research Lab. Project manager in UrbAlytics: an experimental sub-project of the H2020-funded project AI4Copernicus, a research focused on the Urban Heat Island effect in cities and implementation of Nature Based Solutions for climate adaptation. 
Representing the private sector:
Kambis Kohansal Vajargah, Head of Startup-Services at Austrian Federal Economic Chamber | StartupNOW, and European Digital Leader at the World Economic Forum. He is the Founding Partner of different start-ups, such as Freebiebox, an e-commerce startup offering a box of high quality giveaways that no one wants to throw away; Carployee, a MobilityTech startup that offers businesses a white-label carpooling platform for employee; and Partner Saturo, a FoodTech startup that offers Europe's first meal replacement product in a bottle. Kambis is the Former CMO & COO at primeCROWD, Austria's biggest network for startup investors. Focused on Venture Capital, FinTech, CleanTech, Big Data, HealthTech, Mobility, HR, FoodTech & Social Impact. 
Oriol Biosca , Head of Strategic Planning and Partner of MCRIT, MSc in Civil Engineering and in Transport Planning. Specialist in urban, regional, and strategic planning, sustainability, and environmental evaluation. Supports administrations and private institutions in the field of planning, strategic evaluation of infrastructure plans and projects, and transport policies, in Catalonia, Europe and Latin America.