Call for Green Innovations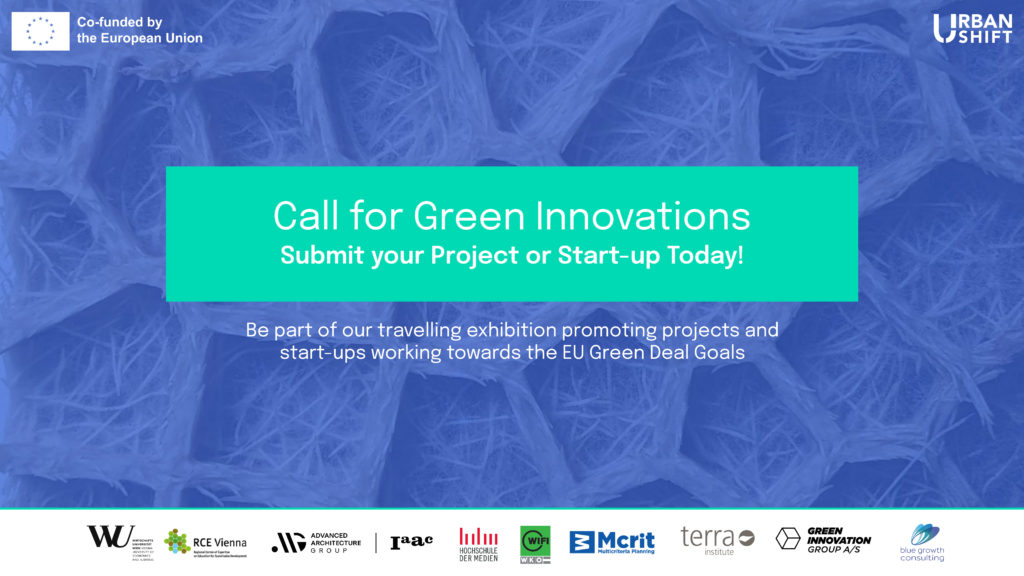 Are you working on projects or start-ups that are aligned with the goals of the EU Green Deal?
Are you looking for an opportunity to showcase your work and gain exposure across Europe? Then this call is for you!
We are looking for innovative projects and start-ups that are working on topics being addressed by the EU Green Deal, to participate in the Urban Shift Living Exhibition that will travel across Europe from Vienna, to Barcelona, to Copenhagen and finish in Stuttgart.
The Living Exhibition will promote the EU Green Deal goals to make Europe the first climate neutral continent by 2050! In addition, it will showcase the work of the start-ups participating in the Urban Shift Living Labs programme as well as the work of start-ups and projects submitted to this call!
Who can apply?
The call is orientated towards students, entrepreneurs and professionals across Europe working on topics being address in the EU Green Deal. In particular, we are looking for projects or start-ups focusing on the topics of Urban Heat Islands and Food Waste/Circularity, but we are open to receive projects outside of these topics.
How to Apply:
Registration and submission are FREE and the entries should be submitted digitally using the link below.
https://apply.iaac.net/applications/view.php?id=143804
Please complete the submission form which includes, the name of your team members, logo of your start-up (if appropriate), and a short 300 word abstract demonstrating how your project or start-up relates to the EU Green Deal.
Each project or start-up should be presented in 1 portrait A3 panel, see template here.
The panel should not include the names of individuals. If selected for the exhibition, your names will be added in the credits.
Panels should be submitted in English.
Please upload the panel as a PDF document no larger than 1MB in the submission form.
Selected Entries:
The selected start-ups and projects will become a permanent part of the Urban Shift Living exhibition and be promoted through the Urban Shift Website and social media channels. This is a great opportunity for your start-up or project to gain exposure across Europe and on the international stage.
Deadlines:
Submission Deadline: 15th May 2023
Selected entries will be announced by 21st May 2023
For any doubts contact info(at)urbanshift.eu
For further information on the Urban Shift Project, check out https://urbanshift.eu/
This call has been launched within the framework of the Urban Shift project, an Erasmus+ project co-funded by the European Union. Views and opinions expressed are however those of the author(s) only and do not necessarily reflect those of the European Union or the ERASMUS+ Key Action 2 Partnerships for Innovation Alliances for Innovation 2021. Neither the European Union nor the granting authority can be held responsible for them. 
Urban Shift is a project developed by Wirtschaftsuniversitat Wien – WU (Austria), Institute for Advanced Architecture of Catalonia – IAAC (Spain), Hochschule Der Medien – HdM, (Germany), Wirtschaftskammer Österreich – WIFI (Austria), Multicriteria- MCRIT (Spain), Terra Institute – TERRA (Italy), Pretty Ugly Duckling – PUD (Denmark), Green Innovation Group A/S – GIG, (Denmark).